Product Description
 Casing Material
Die cast aluminium, epoxy powder coated
 Colors
Yellow, other colors to special order
 Handset Material
Cycoloy with stainless steel spiral cord
 Explosion protection
II 2G Ex e ib [ib] mb IIC T4 Gb
II 2D Ex ib [ib] tb IIIC T135 °Db
-40 °C ≤ Ta ≤ +60 °C/+40°C
Zone 1, 2, 22
 Handset
With Noise canceling microphone,for effective communication from noisy areas(Armored SS cord stands up to rough treatment,optional for black curly cord )
 Weather Resistance
IP 67
 Ringing Tone
Shrill warble tone 85 dBA at 1 metre typical
 Hook switch
Electronic / magnetic with no visible moving parts
 M.T.B.F.
Calculated to have an M.T.B.F. in excess of 50,000 hours using
 Weight
Up to 8 kg depending on option
Technical Specification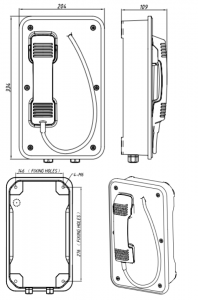 Analogue Version
  Power Supply
From the analogue telephone network
  Supply Voltage
24 VDC to 65 VDC
  Supply Current
20 mA DC to 100 mA DC
  Ringer Volume
– 80dB(A) at a distance of 1 m
– 110dB(A) at a distance of 1 m (for external horn speaker)
  Dialing Method
DTMF mode in accordance with ITU-T recommendation Q.23.
SIP Version
  Power Supply
PoE or 12V DC
  Power Consumption
-Idle:1.5W
-Active:1.8W
  SIP Protocol
SIP 2.0 (RFC3261)
  Support Codec
G.711 A/U, G.722 8000/16000, G.723, G.729
  Communication Type
Full duplex
  Ringer Volume
– 90~95dB(A) at a distance of 1 m
– 110dB(A) at a distance of 1 m (for external horn speaker)
Ambient conditions
  Protection Type
IP 66 as per EN60529
  Operating Temperature
-30°C to +70°C
  Storage Temperature
-40°C to +75°C
Features
 ★ Aluminium alloy die-casting body 
   ★ Vandal resistant handset and cord
   ★ Weather proof protection to IP66-IP67
   ★ Wall mounting, simple installation
   ★ Hotline, without Keypad
   ★ Inductive coupler fitted as standard for hard of hearing
Applications
JREX103-CB Explosion Proof IP Intercom is designed for voice communication in the hostile environment where reliability,efficiency and safety are of prime importance.
The telephone can handle the large temperature differences found outdoors, high humidity, exposure to sea water and dust, corrosive atmosphere, explosive gases & particles, as well as mechanical wear and tear, making it perfect for use as an emergency telephone.
Packing & Delivery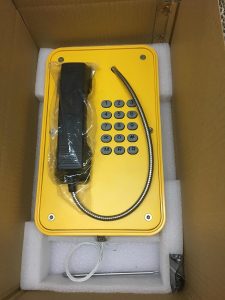 | | |
| --- | --- |
|   Unit Size | 204 *334 *109 (mm) |
|   Carton Size | 200 *300 *440 (mm) |
|   Packaging Materials | Pearl cotton, carton |
|   Net Weight | 5 KG |
|   Gross Weight | 6 KG |
Port
Shenzhen, Guangdong
Lead Time


(If you finish the payment today, your order will ship out within the delivery date.)

Quantity(Sets)
1
2-500
>500
Est. Time(Days)
2
25
To be negotiated
Customized Accessories
J&R provide LOGO printing and accessories customization services.
We will also provide suitable solutions according to the needs of customers.
      HOOK FUNCTION: Magnetic hooks for choice
      KEYBOARD SHAPE: Round buttons and square buttons for choice
      INDICATOR LAMP COLOR: Red, yellow, blue, green for choice
      MOTHERBOARD MODEL: 2G/3G/4G/SIP/GSM for choice
      HADSET CORD: Black curly handset cord or stainless steel spiral cord
​
If you have any custom requirements, please feel free to contact us.
Part of Our Certificates