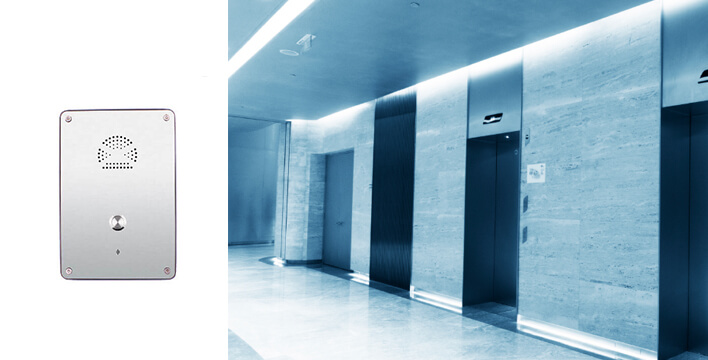 Emergency situation at the workplace or at home can be very common, inclement weather, chemical spills, shooters at the building, floods, earthquake and other conditions are very common . Well, installing a wired system of communication comes at a higher cost, having a wireless system in buildings can be a good solution. So ,it makes more sense to have a wireless intercom system installed that can let you connect with people in case of emergencies. Irrespective of the kind of intercom you have, their objective is to provide quick and faster communication in case of emergencies. Businesses, organizations and various other systems have to be ready for any situation. The first thing that needs to be done in an emergency situation is to inform or make people aware of the situation in order to prevent losses of life and property. So, to inform and make people aware of any kind of emergency condition in an organization, business or system emergency telephone intercom system has been developed. These emergency telephone intercom systems generally support one-way and two-communication between individuals as well as groups.
What is an emergency intercom system ?
This system makes use of long-range two-way communication. It can be configured in different ways and one of the ways is by placing wireless call boxes around the building which employees can use in case of emergencies, whereas the wired ones have to be connected via wires, their components remain the same; except that wired system will be connected via wires and cords.
What are the components of an emergency intercom system ?
If you are planning to the wireless intercom system , then it consists of the following :
1. Wireless intercoms
2. PA system
3. Callboxes
4. Handled two-way radios
5. Push-button devices
Emergency telephone intercom system is generally an emergency communication system. The difference between an emergency communication system and an emergency notification system is that notification system provides only one-way communication whereas the communication system facilitates a way to establish communication between affected people, responders, and emergency communication staff.
Advantages of Emergency Telephone Intercom
• Ease of Making Emergency Announcements
One of the primary objectives of having these systems in place is because they give you instant connectivity with the individuals and make an emergency announcement. Situations like a natural disaster, chemical spills and other mishaps are uninvited . In such a situation , an emergency intercom system lets you contact with everyone instantly. With this system you can disseminate information at the push of a button. Broadcasting a message can also be done through an alarm system but people might think it's a mock drill. Through an emergency telephone intercom, you can make a quick announcement of the situation and everyone in the concerned area knows about the situation and how to react.
• Access to certain areas on emergency situation
There are certain areas or spaces in an organization that cannot be accessed by everyone. Only a few of the employees with certain privileges can access those areas. In case of an emergency, if someone else other than those privileged employees need to enter the restricted area, they can just request or seek permission through the emergency telephone intercom. The people inside can open the door so that other people can enter.
• They can be used as a security system
The emergency telephone intercom can be used along with the surveillance systems in case of emergencies. Anyone who is monitoring through surveillance cameras can direct people where to go and what to do in case of emergencies. This also forms an integral part of the security of a place. Moreover, if someone detects something fishy anywhere while monitoring he/she can inform the security and the staffs quickly through the emergency telephone intercom.
Include Video for Quick Meetings- If you have been thinking that intercoms can only be used for dissemination of audio information, rather, you can also have a video system included in it. This becomes especially useful when you want to have a quick meeting with someone or want to discuss something important. It is one of the greatest ways to interact face-to-face with co-workers.
Multi-Function Intercom System
As mentioned above, the emergency intercom system can easily be integrated with CCTV or camera to promote two-way communication. This is often referred to as a two-way communication system that is used for transmitting and receiving audio/video or audio and video messages independent of the public telephone network. The intercom systems are generally used in a small geographical area such as a building or a group of buildings. You must have seen an intercom device mounted on a wall or in a vehicle. Moreover, intercoms can be incorporated into walkie talkies, telephones, public loudspeaker systems, and other intercom systems.
However, in this ever demanding world, just being able to establish a two connection for audio/video communication is not enough. So, to meet the demands multi-function intercom system has been developed which along with the ability to transmit audio/video message can also perform a number other functions.
Multi-function intercom system comes with a lot of advantages over traditional intercom systems. Some of the major advantages of multi-function intercom systems are:
• Excellent Audio Quality: One of the key benefits offered by this system is that it offers high-quality audio networking. With noise cancellation and clear voice, communication via this system is very effective.
• High-Quality Video Calls: These types of intercom systems are equipped with pinhole video cameras to facilitate colored 3G video calls. The most fascinating fact is that you can receive video calls on your mobile phones. You can also integrate CCTV with this system and use it as a security device.
• Return Call facility: The multi-function intercom system comes with functionality through which you can call to landlines or cellular phones.
• Voice Messaging: these systems come with another amazing functionality of voice messaging. The facility of voice messaging is not present in standard intercom systems. Voice messaging works in the same way it works for telephones. In case of absence or if the line is engaged, the call gets redirected to the voice messaging system or automatic answering machine.
• Answer multiple calls at the same time: Multi-function intercom system also comes with a facility where you can answer two calls at the same time.
• Filter Calls: With some of the advanced system, you also get the leverage to filter the calls, base don call duration, what time you would like to attend call etc. This facility is also available in standard intercom systems but it is limited to call coming from any of the intercoms within the network.
• Works well for everyone: With functionalities like vibration, hands-free kit, 3G video, and audio induction loop these systems can be easily used to communicate with persons with disabilities. If their telephones are incorporated with the intercom system, they can be contacted anywhere.
Why choose J & R Technology ?
Emergency intercom system has become a necessity today for every organization. Emergency situations are uninvited and in such situation you need a system which can instantly let you connect with other people. The emergency intercom system does the same. However, the efficiency of this system is decided by the quality of the product. J & R Technology is known for using the most advanced technologies for manufacturing its products. The company is a premier designer and manufacturer of telephone solutions.
Some of the best emergency intercom devices are :
• Emergency elevator telephone
• Emergency telephone with LED Lamp
• Post Mounting emergency telephone with lamp
• Post mounting emergency telephone with lamp and solar panel
• Autodial wall mounting emergency telephone
• Column mounting industrial intercom
• Column mounting emergency telephone with LED light and solar panel
• Column mounting emergency help point with a built-in induction loop.
In addition to the standard intercom system , the company also manufactures multi-function intercom devices are wall mounted 1 button autodial emergency phone, wall mounted 2 buttons autodial emergency telephone, flush mounting emergency telephone and wall mounting full keypad emergency telephone. All products are certified and are designed as per industry standards to deliver high performance and durability.