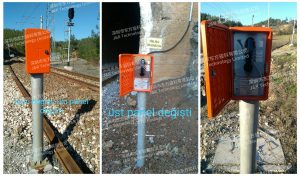 Turkey is a country that straddles Europe and Asia. Its location and strategic significance of geopolitical are extremely important, and it is a crossroad connecting Europe and Asia. In Turkey, railways are an important and common mode of transportation, and you can even rent a train. The total length of Turkey's railway is 8,607 kilometers, and the state-owned railway network connects to each major cities. In 2020, TCDD of Turkey National Railway was ordered JR208-FK trackside  telephone from our company. Recently, the TCDD sent us the installation pictures.
JR208-FK phone made of stainless steel panel, with strong anti-violence performance. The Accessories (handset, circuit board, etc.) are made of multiple layers of waterproof and dustproof materials. It can also working normally even in the case of short-term soaking. With the function of storing numbers, it supports speed dial, suitable for emergency help beside the railway/highway track.
J&R Technology has many years of experience in providing telephone solutions to railway emergency systems. In addition to the Sydney Metro, Iranian railway, Moscow Metro Line 14, Beijing subway in China and Alberta light rail in Canada are all our winning projects. Moreover, in the later follow up, J&R also received great feedback from our telephone users.
J&R always adhere to the safety first and people-oriented aims of special telephone R&D. We provide a variety of telephone customization services and telephone system solutions to meet our customers' needs. If you're interested in our product, welcome to inquiry. To get more details about our telephone, please feel free to e-mail us. We will try our best to meet your needs. Looking forward to your order.
To learn more about us, please visit: http://www.jr-ltd.com/index.html