Offshore Facilities and Oil & Gas 
How Heavy Duty VoIP Telephones can help improve maritime communications in offshore areas,and also look at offshore IP networking issues that need to be evaluated when selecting industrial or emergency communications at sea including SIP (VoIP) offshore telephones, intrinsically safe / Ex and seawater resistant telephones.
Offshore areas such as oil and gas rigs, floating production and storage offloading (FPSO) vessels, cargo ships, tankers, bulk carriers, container ships, passenger ships, shipyards, container facilities, machinery monitoring stations, ports, terminals and other sea areas.
Communication challenges faced by the maritime industry
Traditional communication methods for offshore installations, ships, ships, oil and gas platforms/rigs have always been difficult. Either it is not, or the communication cost is too high. Brutal offshore climate and environmental conditions combined with remote and isolated locations means that communication lifelines are increasingly important to manage the ongoing fleet and vessel operations as well as maintain crew and passenger safety.
whether it is a large container ship, a luxury passenger liner, or an oil tanker – is dealing with many of the same communication challenges that any land-based organisation will be familiar with. The various segments – from commercial shipping, cruise liners and fishing industries, to naval and offshore oil and gas businesses – are looking at improving communications, from emergency telephones, providing employees with a better working environment, and utilizing new applications that will help the business to run more smoothly.
Therefore, finding the right maritime VoIP communication solution for your vessel with sufficient bandwidth within the budget is not an easy task.
"Must-Have" Offshore Communications
High-performance marine communications is critical to keep remote offshore offices connected with decision-makers around the clock.
Industrial and emergency telephones are often "Must-Have" communication devices onboard oil & gas rigs, Floating Production Storage Offloading (FPSO) ships, cargo ships, tankers, bulk carriers, container ships, cruise and passenger ships.
Emergency telephones often referred to as SOS telephones or Emergency Callboxes, are used in emergency situations offshore to notify a central control room about a fire, evacuation, entrapment or to issue Standard Marine Communication Phrases (SMCP). SMCP is a set of key phrases in the English language (which is the internationally recognized language of the sea), supported by the international community for use at sea and developed by the International Maritime Organization.
Standard Marine Communication Phrases (SMCP) are intended to address two issues:
Inter-vehicle communication – communication between vessels and vessels and/or vessels and land-based;
Onboard communication – communication within the vessel.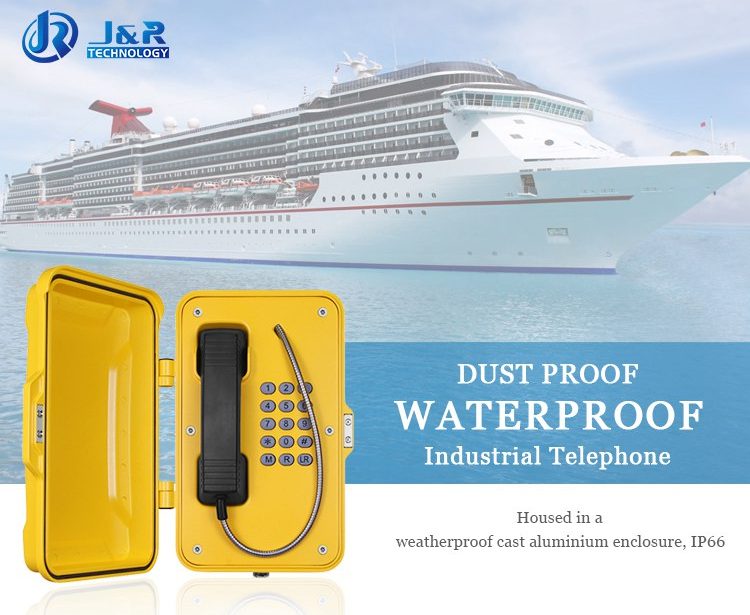 J&R Technology Ltd. is a premier designer and manufacturer of standard and custom telephone solutions. Our products deliver industry-proven and innovated high-quality telephone technology to a broad range of private, public businesses, industrial and applications.
The J&R Offshore SIP-based Telephone is an industrial /maritime communications unit that is both seawater resistant and weatherproof to IP67. This marine VoIP telephone is extremely robust and the hook-switch has no moving parts, making it able to operate in industrial dirty or exposed marine areas where icing, dust or grime quickly can become a problem.
Then we shall look at some of the issues that needs to be addressed when selecting an effective SIP/ VoIP telephone solution in your maritime communications needs.
VoIP Telephones And Offshore Fiber Networks
As with all major modern-day industrial networks, there is a shift happening in Maritime Industry towards implementing modern fiber / Ethernet networks. In previous years, the industry typically viewed cruise or ship Ethernet networks as "IT infrastructure" and saw this primarily as a cost center. However, today rugged and heavy-duty VoIP telephones represent a highly cost-effective way for rig & ship owners to future-proof their fiber network for expansion using open standards whilst improving their offshore communications.
Shipowners with multiple ships in different geographic locations need the ability to communicate between offices in a cost-effective way, and traditionally calls over the PSTN and GSM networks could easily ramp up heavy monthly bills.
Remote Management and Control
As the Offshore VoIP Telephone installations are geographically dispersed and the number of remote users changes over time, the need to manage and support vital VoIP devices from afar becomes crucial.
With J&R rugged maritime VoIP telephones, operators the central operations hub can configure, monitor and even trouble-shoot J&R telephones from a remote location. This functionality is highly useful for oil & gas rigs, Floating Production Storage Offloading (FPSO) ships, cargo ships, tankers, bulk carriers, container ships, cruise and passenger ships. This web-browser solution is very easy-to-use and has been designed to provide the ship operator or rig owner with complete control.
In terms of start-up configuration, J&R sea-proof telephones can also be commissioned from a remote location. The telephones can be configured either via Web interface or via configuration files. In case of the latter, a configuration file for each phone is placed on a TFTP server, and upon boot-up, phones retrieve the configuration. If the TFTP server is not accessible (e.g. removed after initial site configuration), telephones use the settings downloaded previously. All configuration and firmware updates can be done remotely over the network, including re-starting telephones. The firmware update is performed by placing an update bundle on TFTP server. The phones on the installation detect new firmware and perform the upgrade within 24 hours, with normal distribution in the time frame. This avoids peak loads on the network, avoids RSTP tree deterioration due to mass reboots of equipment, and ensures that only a fraction of the telephone park will be down at any given moment. This is a great benefit for the end-user regarding ensuring optimal Mean Time Between Failure records
(MTBF).
Noise Reduction and Voice Quality
Passengers and crew have a certain voice quality expectation when conducting a telephone conversation. This expectation is no different when using offshore VoIP telephones compared to using their fixed-line telephone at home / onshore.
Some key things to be aware of in terms of voice quality when designing your ship network layout:
Latency – a delay from data is transmitted until it is received. Noticeable in conversations if latency goes above 100ms.
Jitter – variances in latency between packets. High jitter means large variance in packet latency and degrades speech quality
Out of order data-packets– degrades speech quality, is often caused by jitter The offshore network designer should be careful to specify a VoIP Telephone which gives a good sound quality, by ensuring that the telephone incorporates the following:
Quality of Service is a feature found in all J&R VoIP marine telephones and refers to the ability to provide different priority of voice and data flows, or to guarantee a certain level of performance to a data flow, ensuring impeccable delivery of voice communications in an IP network.
Type of Service is a feature found in all J&R VoIP marine telephones, delivering packet precedence (i.e., priority) in network traffic, thereby ensuring low delay, high throughput and high reliability.
SCADA or Business Process Management Integration
The inclusion of Modbus TCP, UDP and SNMP open standard protocols in all J&R VoIP models mean that it easy to integrate J&R offshore telephones with your existing ship SCADA system or overall data reporting system.
J&R Heavy Duty VoIP Telephones can therefore easily integrate with existing IT infrastructure such as business process management, SCADA systems or land based control equipment. This provides unique flexibility when integrating process-reported alarms.
There are many issues that needs to be addressed prior to commissioning an IP sea-proof telephone, such as evaluating the installation environment, functionality and temperature ranges. Below are some key pointers to look at when choosing your VoIP Offshore Telephone:
Is the system future proof?Can the system be upgraded or changed in the future without having to change all the telephones and the entire network? All J&R Heavy Duty telephones can be changed with other systems without loss or differentiation to the level of service.
Is the telephone seawater resistant?All J&R VoIP telephones are high performance products which are coated with a protective solution paint, making it resistant to corrosion from the seawater.
Is the telephone dust and water proof?Offshore and maritime areas are some of the most challenging areas in the world, exposed to extreme levels of dust and water. The ingress IP rating to IP65 is therefore recommended in all offshore applications.
Is the telephone condensation proof?–This can otherwise lead to severe problems in operation as water can easily form inside the unit, affecting performance. All J&R telephones are immune to condensation effects.
Does the hookswitch contain moving parts? All J&R Heavy Duty VoIP telephones do not contain moving parts, and can therefore operate in extreme areas where dust or exposure to grime is a challenge for traditional telephone systems.
Can the system work in extreme temperatures? Offshore environments can be notoriously hot and/or cold, so a wide operating temperature functionality is recommended for offshore telephones, from –20 up to +55 Celcius.
Does the telephone incorporate VSQ – Voice Sound Quality?This is a standard feature in all J&R telephone systems, ensuring loud and clear sound, even in noisy ambiance areas.
Does the VoIP telephone incorporate a QoS – Quality of Service functionality and ToS – Type of Service?These features, found in all J&R telephones, guarantees a certain level of performance in a data flow, ensuring impeccable delivery of voice communications in an IP Network.
Is the telephone colored in such a way that it is easily identified by users?The J&R Heavy Duty VoIP comes in a bright yellow color as standard. Colors can also be customised depending on the user needs and order volumes.
Is the system easy to install and to maintain?J&R Heavy Duty VoIP telephones are easy to install and have in-built status monitoring and fault check functions. This means that the status of the telephones can be monitored from a remote location, saving you considerable maintenance costs.
Can the onboard communications technology easily be integrated with the existing land-based corporate IT infrastructure?J&R Heavy Duty VoIP systems are built on Open Standard SIP technology & Open Standard Modbus TCP / UDP technology, and can therefore be integrated with your existing IT infrastructure, SCADA systems or any IP based PBX and network system (including Alcatel, Cisco, Asterisk, Switchvox, Broadsoft etc).
Do you need an explosion proof telephone or not?
It is important to realise that not all oil & gas locations actually need EX or explosion-proof telephones. This depends on whether or not your area is unsafe / ie. exposed to explosive gases, vapor or other hazardous elements. It is worthwhile to consider this before you purchase an explosion-proof system as EX telephones / Intrinsically safe telephones will be more expensive than "regular" industrial VoIP telephones.
In the cases where explosion-proof telephones are needed, is the EX telephone approved to the correct standards?
In Europe, the ATEX directive consists of two EU (European Union) directives describing what equipment and work environment is allowed in an environment with an explosive atmosphere. ATEX derives its name from the French title of the 94/9/EC directive: "Appareils destinés à être utilisés en ATmosphères EXplosibles". Oil & Gas & related shipowners must follow the directives to protect employees from explosion risk in areas with an explosive atmosphere and also classify areas where hazardous explosive atmospheres may occur into zones. The classification given to a particular zone, and its size and location, depends on the likelihood of an explosive atmosphere occurring and its persistence if it does. In other geographies like the USA, MSHA (Mine Safety Association) has specifications on explosion proof phones, and different approval bodies can issue different approval certificates. For example Underwriters Laboratories (UL) and Factory Mutual issue approvals in the USA, and Canadian Standards Association issue approvals for Canada. In other words, if you need EX products, it is important that you check what approvals is needed in your region, and follow local regulations on this important safety aspect.
J&R welcome every client to inform us your specific project demands. And we are always ready to help you win and complete projects successfully by offering high-quality products, competitive prices and our professional services.